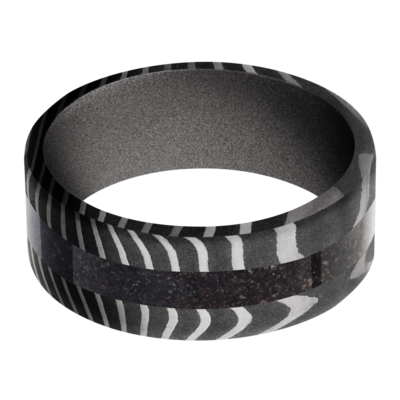 We spent a long time developing a way to add dinosaur bone into our rings. Some people thought we were crazy to even try, but we didn't care. We just really wanted to be able to wear part of a dinosaur on our fingers! It took some time and a lot of work. However, not only did we succeed at being able to add a dinosaur bone inlay into our rings, but it's also durable and looks pretty freaking amazing! But who expected anything less from real dinosaur bone fossils?
In order to make our dinosaur bone inlays, we use agatized dinosaur fossils. These fossils can be traced back to dinosaurs that roamed the Earth during the late Jurassic (about 150 million years ago). These dinosaur fossils were formed as the original bone was naturally replaced over 150 million years with silica-based compounds, including agate, jasper, chalcedony, and opal.
These agatized fossils required a specific type of environment that allowed the calcite in the original bones to be replaced with silicates making them rare. This specific environment requires local strata layers to be uplifted during tertiary intrusions so that silica-rich, superheated groundwater can flood the layers and force water and aqueous solutions into the microporous fossilized bone. Fortunately for us, 35 million years ago, this process occurred on the Colorado Plateau and helped create the beautiful agatized dinosaur bone that we use in our rings.
The extremely agatized, beautifully patterned dinosaur bone that we use in our rings is found in the Four Corners region in the United States where Colorado, New Mexico, Arizona, and Utah meet. In the United States, fossils are legal to own and distribute as long as they don't come from public lands. Because we love our public lands and respect these rare resources, we stick to a strict policy of ethics and ensure that none of our dinosaur bones are collected from state or federal lands and that only fossils that are too small or broken to be used in museums as showpieces are used. We also make sure that no museum-quality specimens are damaged in order to extract our dinosaur bone.
Dinosaur bone looks like a typical rock until it is cut and polished. Once it is cut and polished, all of the colors and amazing patterns caused by all of the minerals (such as chlorite, chromium, iron-oxide, and manganese) become visible. This variety of minerals and patterns ensures that each piece is truly unique and gives our dinosaur Bone the red, black, or tan colors that you see in our Dinosaur Bone Collection.
Dinosaur bones are fossils (at least until we improve cloning technology and someone creates a real Jurassic Park), fossils are rock, and, of course, rock is naturally brittle. Due to this, to ensure the most durable possible ring, we crush each fossil and add it to the inlay rather than trying to use it as an intact piece. The crushed pieces of Dinosaur Bone are inlaid into a groove in the band and sealed with a medical-grade resin. Finally, the ring is sanded to a smooth and polished finish which gives it a glossy appearance.
Our dinosaur bone rings are easy to maintain and require no special care. Nature already spent 135 million years creating them, you shouldn't have to spend another 135 million years maintaining them. They can simply be cleaned with regular jewelry cleaner.
Check out all of our Dinosaur Bone Men's Wedding Bands in our Dinosaur Bone Collection.